Optimize Sales Within Your App And On Your Website
With eCommerce sales and in app purchases at an all-time high, now's the time to jump on board and join the movement. Having an in app store or online store is a great starting point, but in order to rake in the big bucks, there are certain features your app and website need and some things you can do in order to encourage your users to make a purchase.
Once your app or website is up and running, you're ready to focus on the important part; encouraging your users to buy. But first let's review some basics:
How to get started
1. Add your products: Your product pages should include high-quality photos along with a detailed product description and all possible variants of a specific product like the size, style or color. Want your buyers to spread the word? Select which social media icons will appear on your product pages so that your users can share your product on their social channels.
2. Connect your payment: If you want to get paid, you need to set up your payment options inside your Store Manager. Choose from PayPal, credit card (Stripe), offline payments, and more.
3. Set up shipping and tax rules: Set up your shipping and tax rules depending on where you'll be shipping to. You can create additional rules within your Store Manager so that when a buyer makes a purchase, you're ready.
Setup your store with Appily App Builder:
With the MCommerce feature you will be able to sell your products from one or several stores. Users will be able to pay online via Paypal, Stripe or offline, to pay at your store or at the delivery.

Note: Every store you create, will have the same catalog, see it like a "franchise".
Let's go! To add "MCommerce" feature in your app, click on the MCommerce Feature in the "Add pages" section:
1. Create Store: Click on + to add a store and fill out your store's info:
Then add your delivery options:
You can choose from: "In store": Your clients will have to come to the store "Carry out": Your clients will have to come to the store to get the product and then leave the store with the product "Delivery": You can deliver your goods to your clients If you choose "Delivery", some other options are displayed:
"Delivery fees": The cost of the delivery "Free delivery starting from": If you want the delivery to be free when the order reaches a certain price "The clients calculate the change": Add a field at the end of the order where the client will specify the type of cash he will use. For example, if he uses a 50$ bill, you will be notified "Delivery radius": Indicate the area you deliver from your store address, in km "Delivery time": The average time of delivery, between the order and the start of the delivery, in minutes "Minimum order": Set the minimum price for a delivery Then add your payment options. If you choose Paypal, you'll need to do some mandatory operations in your Paypal account. You can also pay by credit card when you pick up your order / upon delivery or you can directly pay by credit card online. To do that you just have to select the option "credit card (online payment)" and fill out the two sections "Secret Key" and "Publishable key" you obtained on Stripe.
Then, create a Tax for your Store:
Save by clicking on "Save" 2. Create catagories for your products: Go to "Catalog" and click on "My categories": 📷 Click on + to add your categories: 📷 The first one is automatically created but won't be shown to users. It's your root category but once again it will not be shown to users so you can leave it like that. Select it and click on "+" to add a subcategory (in fact, as the root category is not shown, this new category will be a main category). Add as many categories and subcategories as you need: 📷 3. Create products: Click on "My products" from the main menu in "Catalog":
Click on + to add a product:
You can add some sizes/variants to your product. Switch on Product Formats and then fill out sizes/variants information of your product, with a price for each. Note that if you activate this function, you won't be able to change the price of your product in the main menu as you did just before. The price displayed in the app will be the smallest one ("from $0.30" for example).

You can add some sizes/variants to your product. Switch on Product Formats and then fill out sizes/variants information of your product, with a price for each. Note that if you activate this function, you won't be able to change the price of your product in the main menu as you did just before. The price displayed in the app will be the smallest one ("from $0.30" for example). If you check "at least one option is required" the user will have to choose from the sauces you offer when he orders the product. He will not be able to order without choosing one of these options (that's useful when you have many sizes for a product, as we will see next). Don't click on "ok" yet, click on + next to "Add options" and add the name of the options you want. Click on "ok" to save. Now, in your product details page you can see your options below:
You can also choose to create an option list, for example you are selling sandwiches, and you want your clients to pick one sauce from a list: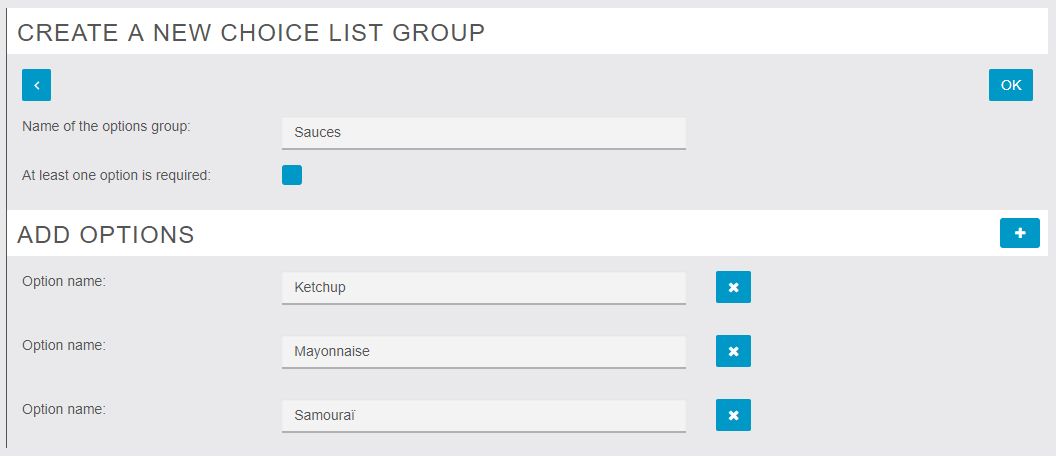 Then check the categories for your product:
And click on "ok" at the top of the page to save your product. You can also duplicate a product if you want to create a new product that doesn't have many differences from another one:
If you have many products in the feature, it can be difficult to scroll to find the one you are looking for. That's why we implemented a search bar, where you can type its name and find it easily.
4. Manage: In the "Orders" menu, you will be able to see and manage the orders you receive. In the "Settings" menu, you will able to manage the fields required during the order. You can either choose to make a field mandatory, hidden, or simply hide it from the form. Let's look at an example: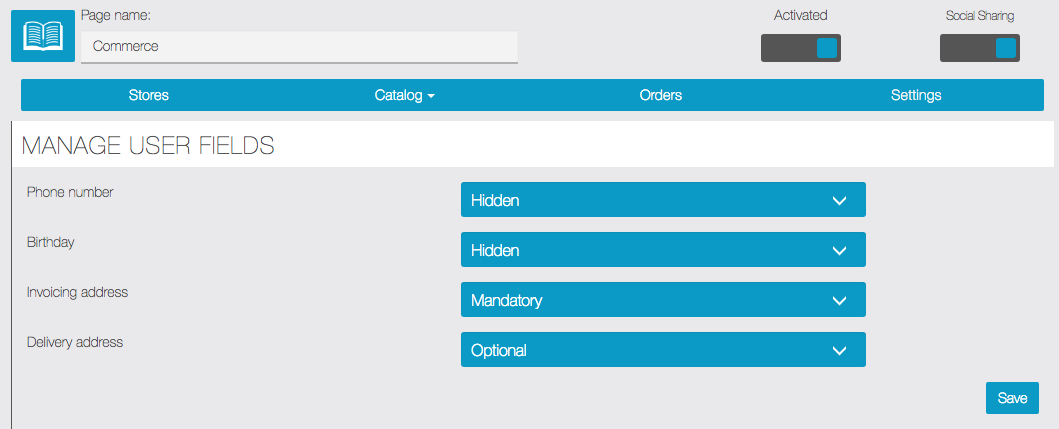 And let's see the result inside the app when ordering:
Furthermore, if the user has already created an account in the app and is logged in, some information will automatically be retrieved by the MCommerce feature to fill parts of the form, as you can see in the example above. Then, you will be able to create discounts:
"Enabled": You can enable it right away or disable it for now. You will be able to enable it whenever you want after the creation "Label": It's the name of the Discount "Code": Your client will use this code to activate the Discount "Minimum amount": Set a minimum amount on the checkout to activate the discount. Leave it blank if there is no minimum amount "Discount type": "Fixed" for fixed discount, for example 10$, "Percentage" if you want to deduct a percentage "Deductable": It's the amount you want to deduct, in your currency if you chose "fixed", in percentage if you chose "percentage" "Validity date": Fix a validity date if you want one, leave blank if not "Usable once": Check this if you want your Discount to be used only once You can then manage them in the "Manage Discounts" tab:
You will also be able to link, for each store, a connected printer to your app to print orders when they arrive. Make sure your printer is compatible, it will need an address mail:
You can also setup more taxes if your products don't use the same taxes:


Set up your storefront
When you walk past a store on the street, what compels you to walk through the door and eventually make a purchase? While there could be a number of factors that invite you in, the most obvious is a beautifully decorated storefront. Just because your business is online, doesn't mean you can't create a stunning storefront of your own. Your homepage is the first thing your visitors will see, so you want to grab their attention! Consider adding a new collection to lure your visitors in or get your customers ready for spring by adding a colorful layout. Customize the look and feel of your storefront and of course, change the language if needed.
When a visitor arrives on your homepage, they'll need to be guided on where to go next (ahem, we're talking about your product pages!). Be sure to use high-quality images and include clear call to action buttons like 'Buy Now' to encourage your users to browse and ultimately buy.
Strut your stuff
When you walk through a store and there is a blow-out sale going on, you know it from the moment you arrive. Well, the same should go for your eCommerce store. Running an end-of-season sale? Shout it from the rooftops! Create enticing coupons that will get your crowd talking. From buy one, get one free coupons to offering an entire collection at one flat price, the possibilities are endless. Another great idea? Run a limited time offer, like 50% off your whole store, for two days. That sense of urgency will give your buyers the nudge they need.
The more you give your buyers, the happier they'll be. And you know what they say about happy customers! They're more likely to return.
Show them you're trustworthy
With so many in app and online stores out there, it can be pretty hard to figure out who's trustworthy and who's not. In order to make sure your visitors turn into buyers, there are a few best practices you should apply:
Have your shipping and tax policies clearly displayed. On that same note – don't hide your return policy!

Let your customers sing your praise! Use customer reviews to showoff your stellar reputation.

If you've got some press coverage, dedicate a page in your app or on your site to show your visitors you're well-known.

Share your business's history and introduce your team via your About Us page. Personal connectivity always wins.

Answer their questions before they ask with a straightforward FAQ page.

And of course, you should be as easy to reach as possible.
Next Steps:
Make yourself accessible. Speaking of being easy to reach, online shoppers are more likely to buy when they know they can contact you, so be sure to highlight how to get in touch with you within your app or on your website. Include more than just your phone number and email on your 'Contact Us' page.  Add a Contact Form and show your buyers you're standing by to listen to what they have to say. Got a physical storefront? Add a Google Maps location in your app or on your site so you can easily be located. But if you're still a one-(wo)man operation, add your social buttons with the help of Smart Social Icons to show your consumers you're completely accessible.
#eCommerceWebsite #OnlineStore #SmallBusinessTips #AppilyAppBuilder #InAppStore #InAppPurchases